Giveback XP offers a variety of auction entertainment packages that will appeal to any pop culture lover! These memorable packages allow winning bidders to experience once-in-a-lifetime events. Giveback XP specializes in creating and executing custom charity auction packages that surprise and delight, allowing your organization to meet its fundraising goals with auction packages that appeal to your event audience.
From helping with the format of your event, to determining the right auction items, our team of experts and vast network of partners make it easy to plan the best event for your organization and guests. We offer a wide variety of entertainment experiences – from Broadway to star-studded award shows – Giveback XP offers incredible auction entertainment packages to make your donors feel like a VIP.
Award Show Travel Experiences
See your favorite celebrities, artists, and athletes live and up close at one of our award show experiences! These bucket-list award show packages include: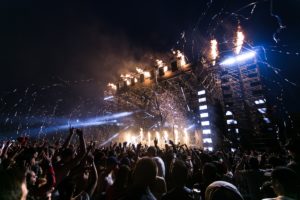 The ESPY Awards – The ESPY Awards represent Excellence in Sports Performance Yearly Awards for individual and team athletic achievement and performance. The best in sports are honored not just for their athleticism, but for contributions to society and humanitarian work. Experience this unforgettable and unique celebration of the past year in sports with 2 passes and a 3-night stay in Los Angeles, California.
The Country Music Awards – Country Music's Biggest Night takes place in November each year in Nashville, Tennessee. The CMAs feature a number of interesting races for top awards such as Album of the Year and Entertainer of the Year, but it's always the live performances that generate the most buzz and excitement. During this 3-night stay, you and a guest will receive 2 passes to the Country Music Awards and 2 tickets to the Country Music Hall of Fame and Museum Experience.
The American Music Awards – The annual American Music Awards is the one night a year to see all of music's top performers in one place. From pop and rock to country and R&B, this experience has no shortage of celebrity sightings. Enjoy 2 loge level tickets to the American Music Awards and a 3-night stay in Los Angeles, California.
Big City Travel Experiences
Whether its to the Big Apple or Sin City, we have packages to top destination cities featuring unique experiences that provide a quintessential touch. Let us plan the perfect trip to must-see destinations! A few of these Big City Travel Experiences include:
Vacation Packages for Individuals
While Giveback XP partners closely with many nonprofit organizations, our unique travel experiences are also available for personal travel. By purchasing an experience package as an individual buyer, you will receive all of the support and benefits of working with a concierge travel agency, but for a fraction of the cost thanks to our numerous vendor partnerships. These packages include travel, lodging, excursions, and dining experiences. And since a portion of each sale goes to support underserved youth, you'll enjoy a budget-friendly, dream vacation, while also supporting a very worthy cause.
Experiences with Purpose
Giveback XP has a Profit + Purpose mission, which means we provide travel experiences with a purpose – to make an impact in our community. We donate a portion of our profits to send underserved youth to sporting events and to support athletic programs in need. We believe in the power of sports to bring about positive change in the lives of kids in need and it is our primary focus to impact as many kids as possible.